Frequently Asked Questions
DaaRULES
No strollers
No outside bags or oversized purses
No saving spots in Daa line
No running, attitudes, or aggressive Behavior
No outside food or drinks
Do not open boxes in DaaBINs. Employees will open boxes for you at DaaOPEN STATION
What is DaaPASS?
DaaPASS allows you to skip Daa line and shop for five minutes before DaaBIN Store opens. You must display your proof of purchase by presenting your emailed receipt before entering DaaBIN store. The passes are limited to one per person.  If you have multiple people in your group, every one needs a DaaPASS if you all plan on getting in early.  DaaPASS is available for Saturday mornings for Daa week's new load, & Tuesdays for Dollar Day. Saturday's DaaPASS is $50 and Tuesday's DaaPASS is $10.
What are your hours?
Our hours are:
9am-5pm on Saturdays
12pm-5pm on Sundays
9am-5pm Mondays & Tuesdays
9am-12pm on Wednesdays
Is the price per item or per bag?
Saturday's – Tuesdays all bin items are sold individually.
On Wednesdays, we offer our fill-a-bag promotion, in which each bag (whether you have 2 items or 20 items in a bag) is $10
Can I purchase gift cards?
Absolutely! DaaBIN Store Gift Cards can be purchased HERE
Are masks required?
Masks are a personal choice. If you'd like to wear one you can, if not, you don't have to. Masks are NOT required in our store.
When are restrooms open?
Restrooms open at the time the store opens
What forms of payment do you accept?
We accept cash and credit/debit cards as payment.
Do I have to bring my own bag, shopping cart, or box?
No. In fact, we don't allow outside bags, backpacks, oversized purses, etc. in our store. We will provide you with a large shopping bag for use while in our store.
Are minors allowed to dig?
People of all ages are allowed to dig but please remember, you are responsible for your minor children and should be keeping close tabs on them while in our store.
How often do you restock?
We are closed every Thursday and Friday to restock with fresh items every Saturday.
Once I get in line can I leave and come back?
No, once you leave Daa line for any reason, you have given up your spot in line.
What is your return/exchange policy?
Items are purchased "as is" and all sales are final. We give you Daa opportunity to review items with one of our staff at "DaaOpen Station" to make sure you know what you're getting if you choose to do so.
Can I bring a stroller, backpack, or cart, tote purse, diaper bags?
We ask that no strollers be brought into Daa store. We do not allow outside bags, backpacks, oversized purses, etc. in our store. We will provide you with a large shopping bag for use while in our store.
Can I open boxes?
Boxes are not allowed to be opened by you. However, if you'd like to have Daa box opened to see Daa contents, we do have an "Open Station" where one of our staff will gladly open Daa box for you and let you review it before you purchase it.
Can I save a spot in line for my friends?
No. You are in line for yourself and yourself only. Spots are not to be saved. It's not fair to all of Daa others that got up early and waited in line.
How does it work?
A shipment of new product arrives weekly. Every Thursday & Friday, we close to restock Daa supply, with fresh product every Saturday. First come first serve. On Saturdays, everything in DaaBins is $7. Every day following decreases in price until Wednesday when we have a fill-a-bag for $10 sale (We supply Daa bag). We will also have a separate area with a few priced items but Daa majority of items we receive on Daa semis will be in DaaBins! It's like having Black Friday deals every day!
How does $10 bag day work?
It's simple. We provide you with a bag, you fill it full and pay $10 for Daa whole bag!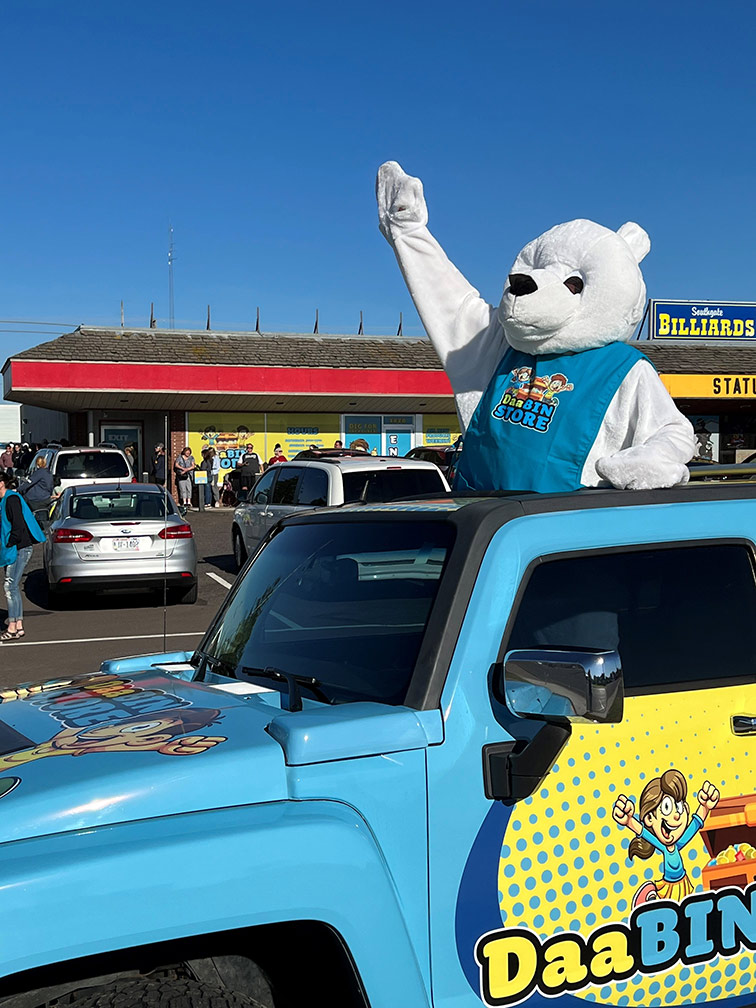 Have a question? Reach out to us and we will be in contact soon.
"*" indicates required fields